First Nations education award for Speaking in Colour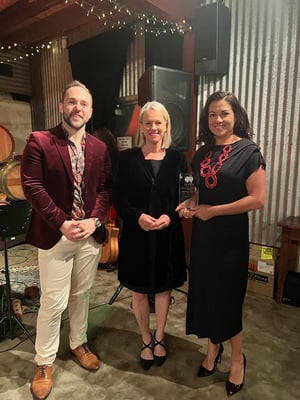 Speaking in Colour is passionate about education which makes our recent award at the 2022 National Conference for Regional, Rural and Remote Education much appreciated recognition.
Speaking in Colour received the First Nations Education Award which recognises excellence in Aboriginal and Torres Strait Islander regional, rural and remote education.
Founder and MD Cherie Johnson says the award is a testament to the work the business is going across the corporate, business and education sectors to make substantive and lasting change.
"Speaking in Colour is a collective of likeminded educators and professionals, with the mission to make a difference in the delivery of Aboriginal education, to the corporate, business and education sectors. Our training and experiences provided are fun, affordable and in the spirit of reconciliation."
"I am an educator at heart. I started writing Aboriginal education resources for Newcastle and Lake Macquarie Art Galleries to support exhibitions and the gallery staff. This soon expanded to teaching resources for schools, professional learning for teachers and then on to the corporate sector.
"During the COVID 19 lockdowns, we pivoted the business quite quickly to provide National Education Standards Authority (NESA) endorsed training via zoom and e-modules for students and educators. Although this was a steep learning curve, it means that we a well prepared to work with communities beyond our own backyard to make sure everyone has access to quality resources.
About the awards
The Australian Rural Education Awards (AREAs) are ran by the Society for the Provision of Education in Rural Australia. They are awarded annually to an individual, institution, organisation or industry to recognise excellence in rural education in Australia.
The 2022 AREAs were announced at the National Conference for Regional, Rural & Remote Education conference in October 2022.